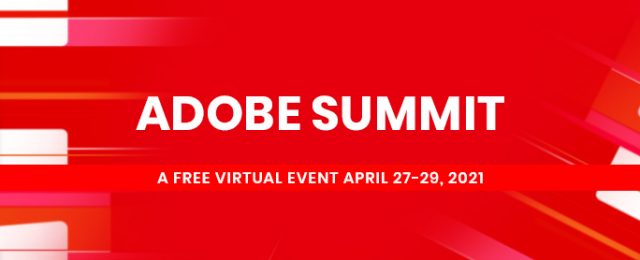 Ieri, 27 Aprile 2021, è iniziato l'Adobe Summit 2021. L'evento si svolgerà in modo virtuale e terminerà domani 29 aprile 2021.
L'evento mira a trasmettere nuove competenze e dare ispirazione creando il giusto networking. Nella prima giornata non sono mancate le interazioni dove si sono confrontati esperti del settore e altri Experience Maker, su consigli e strategie per far crescere il proprio business.
L'evento è completamente gratuito, ed è possibile accedere alla pagina di Adobe summit 2021 per potersi registrare e prenotare l'intervento che si desidera seguire.
Gli strumenti e le esperienze digitali stanno rivoluzionando il modo in cui viviamo e socializziamo. Questo fenomeno è diventato più evidente con l'arrivo della pandemia COVID-19. L'uso sempre presente della tecnologia ha offuscato i confini tra la vita e il mondo digitale.
I brand sempre di più devono utilizzare i migliori strumenti digitali come mezzo per interagire con i propri consumatori nei diversi punti di contatto del percorso di acquisto.
Adobe summit 2021 ha messo a disposizione per l'evento degli interventi imperdibili con speaker di spicco nel mercato.
Temi in Adobe summit 2021
All'evento ci sono più di 400 sessioni e workshop di formazione in 11 percorsi:
Adobe Experience Platform
Analytics, Insights, and Activation
B2B Marketing and ABM
Campaign Management
Collaborative Work Management
Content Creation
Developer Ecosystem
Digital Commerce
Digital Document Productivity
Personalization
Per approfondire trovi maggiori dettagli all'interno del sito di Adobe summit nella sezione delle sessioni.